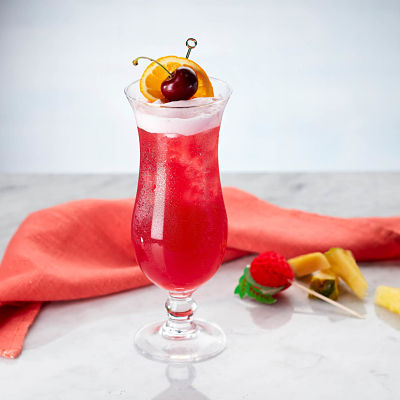 Singapore Sling serving ideas are available from Chef & Bar Supplies. One of the most popular cocktails on many bar menu's. This is a classic presentation using a Hurricane glass or Hi-Ball Tumbler. However it will look just as fantastic in a Pilsner style glass or Brandy glass.
Just to help along the way....here is a classic Singapore Sling recipe!
Ingredients:
25ml Gin.
25ml Cherry Heering.
1 tsp Benedictine Liqueur.
Ginger ale to top up.
Cherries, Pineapple, Orange or Lime Peel to garnish.
Preparation:
Pour Gin, Benedictine and Cherry Heering into glass.

Fill to top of glass with Ginger Ale.

Add Ice (if desired).

Use chosen fruit to garnish.

Pop in a straw and serve.