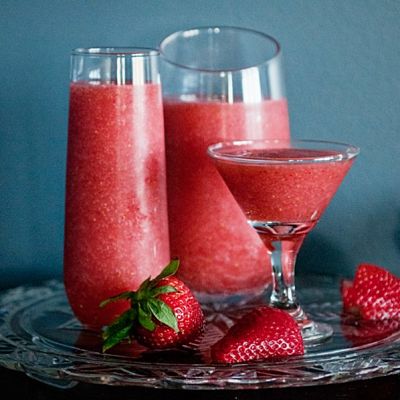 Daiquiri serving ideas are available from Chef & Bar Supplies. One of the most popular cocktails on many bar menu's is the Strawberry Daiquiri. This is a classic presentation using a superb traditional martini glass or a hi-ball tumbler glass.
Just to help along the way....here is a classic Strawberry Daiquiri recipe!
Ingredients:
35ml White Rum
1 tbsp Strawberry Liqueur
2 tsp White Sugar
25ml Lime Juice
4 Fresh Strawberries
Extra Strawberries can be used for decoration (if required).
Preparation:
Put the Strawberries, Sugar, Rum, Strawberry Liqueur and Lime Juice into the base of a cocktail shaker.

Using a muddler, mash all the above ingredients together.

Place lid on cocktail shaker and shake vigorously.

Strain the mixture into your desired glass.

Use extra strawberry to garnish.