Kitchen Cleaning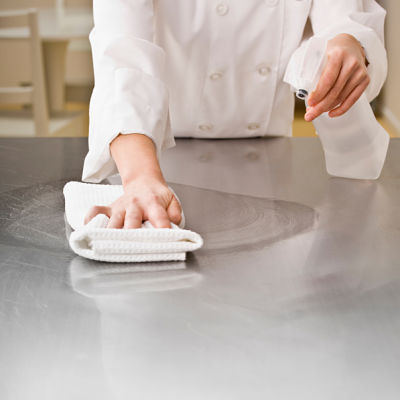 Kitchen cleaning products are available to buy-on-line from Chef & Bar Supplies as part of the extensive product offer for Chef & Kitchen.
Kitchen cleaning is one of the most important parts of a busy catering environment. Daily cleaning schedules can be made so much easier with a professional Chemical Dilution Systems such as Divermite Dilution Chemicals or SmartDose Dilution Chemicals. These systems can show massive cost in use savings AND reduce environmental waste to a minimum. Largely, Suma D2 and Suma D10 will take care of 75% of all the cleaning jobs in a busy kitchen.
Wash-up & Presoak Products will show options that suit every budget for washing up and destaining crockery and cutlery. Cleaning & Sanitizing Products assure you of top level hygiene in the kitchen and Degreasers & Oven Cleaning Products will give great solutions for the toughest cleaning jobs.
Dishwasher Detergent and Rinseaid show detergents and rinseaid at every price level. Appliance Descaler will keep appliances in top condition for longer life.
Paper Wiper Rolls and Handtowels for busy catering area's save time and money and are a more hygienic way to clear spills and to keep personal hygiene at a high level. Blue 2Ply Centrefeed Wiper Rolls are by far the best selling product here. Blue paper rolls should always be used in food preparation area's as then, any paper contamination can be easily spoted in food stuffs. Hand Soap and Hand Sanitizers and Protective Gloves give flexible options to ensure high level personal hygiene at all times. Cloths and Scourers and Refuse Sacks and Bins, including Compostable Food Waste Sacks approved for SITA collection & disposal, offer all of the sundry items necessary for a fully functioning, top level, hygienic cooking and food service environment.
All information regarding new EU CLP regulations can be found here.