Restaurant Table Cutlery
Wholesale Restaurant Table Cutlery is available to buy-on-line from Chef & Bar Supplies at competitive wholesale prices.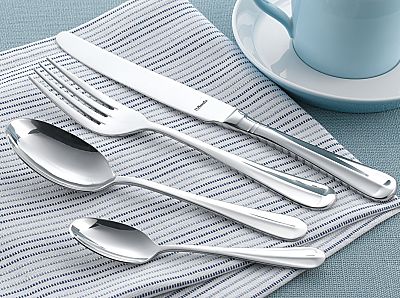 Economy Stainless Steel Cutlery is a best selling 18/0 pressed stainless steel cutlery. It is robust and cost effective. Full size and specialised Childrens cutlery is available in this most popular wholesale range. This is the most widely used level of cutlery throughout bistro, restaurant and banqueting food service.
Parish Pattern Cutlery includes all of the most popular patterns used throughout the hospitality industry. The traditional Harley, Jesmond, Bead and the ever popular Amefa Rattail cutlery patterns are all quickly available. All of the parish patterns are 18/0 stainless steel, polished finish and are dishwasher proof. 18/0 Stainless Steel is a 'ferritic' stainless steel type, which is attracted by a magnet (like pure iron). This steel is known as '430' in the AISI system or 1.4016 in the European standard.
Premium Design Cutlery ranges give many options for upgraded service levels.
Genware Premium Cutlery ranges includes Florence, Square, Saffron, Baguette, Teardrop and Slim. These patterns are sleek, modern designs in 18/0 Stainless Steel giving great presentation and impressive tabletop settings at really competitive prices.
Grunwerg Premium Cutlery ranges include Tatami, Gala and Marquee and are completely original premium designs with unique shapes and finishes.
Steak Knives & Special Cutlery includes really helpful items such as steak knives, lobster crackers and lobster picks, latte spoons, sundae spoons and pastry forks to mention just a few.
For any other patterns you may require, please contact Chef & Bar Supplies for further help and information.