Gastronorm Pans & Lids
Airtight Storage Container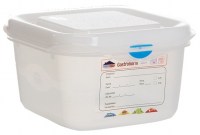 Product Code: GN12380
Case Quantity: 12
Case Quantity Discounts
1 - 4 Cases @ £61.06 Per Case + VAT
5 - 9 Cases @ £58.00 Per Case + VAT
10 + Cases @ £54.95 Per Case + VAT
Case Price (ex VAT):
£61.06
Case Price (inc VAT):
£73.27
Gastronorm pans and lids are available to buy on line from Chef & Bar Supplies, just part of the extensive Chef & Kitchen product offer.
A choice of pans in Stainless Steel, Polycarbonate and Polypropylene with lids are all here.
Standard sizes available with lids to fit. 1/1, 1/2, 1/3, 1/4, 1/6, 1/9 sizes with depths from 65mm to 200mm.
Used for front of house and kitchen storage and service. Dishwasher, oven and freezer safe.