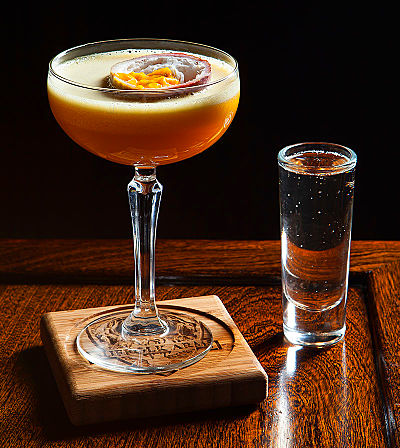 Currently one of the most popular cocktails on many bar menu's, it was originally created in Australia and started to enter the London cocktail scene around 2003. The passion fruit, which is known to be an aphrodisiac is where it gets it's name. Eat the passion fruit first before drinking the Champagne and then enjoy cocktail.
This classic presentation uses a traditional martini glass or a champagne coupe glass with an accompanying shot glass for the presecco shot finishing touch.
Just to help along the way....here is a classic Porn Star Martini Cocktail recipe!
Ingredients:
25ml Vodka
25ml Passion Fruit Liqueur (Passoa)
2 Teaspoons Vanilla Sugar
25ml Passion Fruit Puree
Shot of champagne
Slice two passion fruits in half and scoop the pulp from three of the four pieces.
Preparation:
Put all of the ingredients, except the champagne, into a shaker filled with ice.

Shake vigorously

Pour through a strainer into a martini glass

Garnish with the remaining section of passion fruit

Serve the champagne in a chilled shot glass on the side