Cast Iron Pans, Sizzlers & Mussel Pots
Cast Iron Pans, Sizzlers & Mussel Pots are available to buy-on-line from Chef & Bar Supplies, just part of the extensive Food & Beverage Service product offer.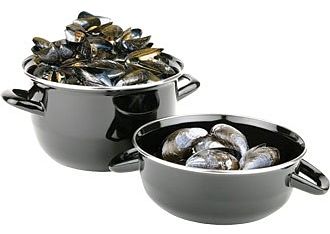 Bringing 'theatre to table' is a by-word for food presentation and restaurant service. Sizzle Platters give dramatic presentation as do Mini Cast Iron Pans and Casserole Dishes and there are plenty of options shown here.
Mussel Pots and lids, Balti Dishes and other presentation items to enhance you food service and table presentation are all available here.
Mini Cast Iron dishes are perfect for serving hot or cold starters or side dishes. They are suitable for oven use as well as all types of hobs INCLUDING induction. Most of the items are preseasoned but they are NOT suitable for dishwashers or microwave ovens.