Menu Display Boards & Chalkboards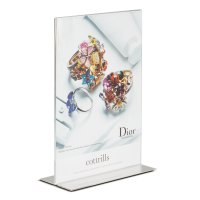 Product Code: AD3A5-MF
Case Quantity: 2
Case Quantity Discounts
1 - 49 Cases @ £6.32 Per Case + VAT
50 + Cases @ £5.06 Per Case + VAT
Case Price (ex VAT):
£6.32
Case Price (inc VAT):
£7.58
Chalk boards, A-Frame Pavement Boards and Snap Frame A-Boards for poster display are all available to buy on line from Chef & Bar Supplies, just part of the extensive Food & Beverage Service product offer.
Tabletop Display Boards give you the flexibility to tell you customers about menu special or special items. The popular 'Tombstone' display boards in several sizes is available here.
A-Frame Chalkboards or Pavement Chalk Boards get your messages directly and instantly to your potential customers. Instant marketing for your menu specials and promotions.
Chalk Boards for wall or free standing display can mean menu changes and daily promotions give you endless options.
Liquid Chalk Pens and Board Cleaners and board cleaner for clear and artistic design just complete the range.
For any further help & information please contact MK Limited detailing your requirements.