Wrapmaster Clingfilm & Foil
Wrapmaster Clingfilm, Foil and Baking Parchment wrap systems are available to buy on line from Chef & Bar Supplies as part of the extensive Chef & Kitchen products offer.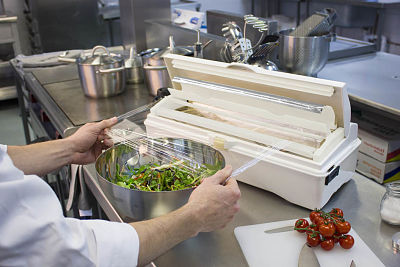 Wrapmaster dispensers offer the option of high quality 300mm or 450mm Clingfilm, Bacofoil Aluminium Foil, Baking Parchment and Greasproof paper all dispensed through the excellent Wrapmaster dispensers. This system means that food wrap is always away from contamination and it adds an extra dimension of hygiene and convenience for the professional kitchen. The dispensers are dishwasher safe, robust and sturdy. The new Duo Wrapmaster Dispenser allows two rolls to be dispensed from the same dispenser giving extra convenience and saving space.
Wrapmaster PVC Clingfilm can be recycled in any recycling kirbside collection.

iWrap Jackstack Wrapping also means you can use great quality Wrapmaster Clingfilm with the special iWrap Dispenser to quickly and efficiently wrap pre-prepared meals stored on a Jackstack.
CBS always has FREE WRAPMASTER DISPENSER offers available to help you start with the professional system.