Reusable Plastic Jugs & Pitchers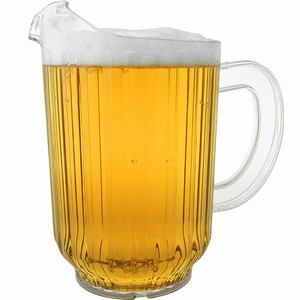 Reusable Polycarbonate Plastic Jugs are available to buy-on-line from Chef & Bar Supplies within the Reusable Plastic Glasses & Jugs range, just part of the extensive Bar Supplies product offer.
Reuable plastic jugs are excellent for beer service in 2 Pint and 4 Pint Lined and CE Marked (Legal for draught beer). They also make excellent water, cocktail or Pimms jugs.
Stacking Jugs and crystal clear pitchers for water, juice and other drinks are also available, some with lids if required.
Particularly suited to pubs, night clubs, leisure centres and outside bar service. Polycarbonate is fully recyclable.