Recyclable Plastic Glasses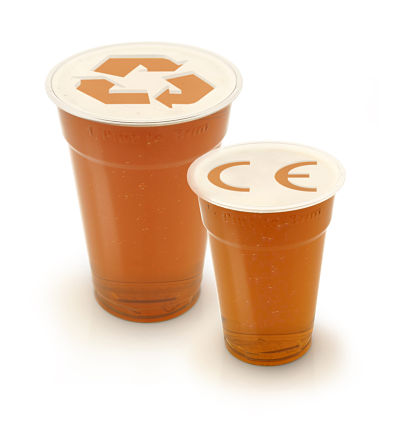 Recyclable Plastic Glasses are available to buy on line from Chef & Bar Supplies as part of the extensive Bar Supplies product offer.
ALL PLASTIC CUPS SOLD HERE CAN BE 100% RECYCLED.
Disposable plastic glasses are now required in certain Police Authority area's. Plastic cups offer a cost effective and safe way to provide effective drinks service in area's where safety is paramount or where convenience and speed of service are essential. They are safe because they cannot cut if used as a weapon and they need not detract from your drinks presentation.
100% FULLY RECYCLABLE Polypropylene (PP) and are very cost effective. They are fully recyclable in any kirbside/commercial collection. They have a good sturdy rim and are Pint and Half Pint to the brim measures with CA marked on the base for legal draught beer service.
Chef & Bar Supplies do not supply PLA products.
WE ARE AWAITING NEW PRODUCTS THAT ARE ALSO BIODEGRADABLE.
All pint and half pint tumblers are 'to the brim' CE marked measures giving no chance of overfills and therefore, maximum profits.
Plastic Wine, Shot and Cocktail Glasses also give great presentation and aid speed of service. Plastic wine glasses & Champagne flutes are great for theatres, outside functions and leisure centres.
Please also see Reusable Plastic Glasses and Jugs for polycarbonate and styrene beer, wine, spirit & cocktail glasses that are glasswasher safe and extreamly high quality.